What's This Now?
July 23rd, 2009 | by: Mario |

Comments Off
Wenger? What the heck? Just as we were told our man Eduardo is finally fit and is sure to be there for Belarus, Wenger spills the beans and says Dudu is sidelined again. And for two months at that!? To recapitulate, yesterday the man was alright and working hard to participate in his club's and Croatia's upcoming endeavours. And today, well today he's apparently still as painfully distant as some half a year ago, when we were told he's somewhere on that god forbidden road of recovery and there's no telling when we'll see him on the pitch again. So when did this injury occur? What happened? And for the love of God, why? Again?
***drum roll***
Answer: Nothing. Nada. Zip. As it turns out, Wenger lied. Or he accidentally misspoke Eduardo's name where clearly that of Samir Nasri belonged.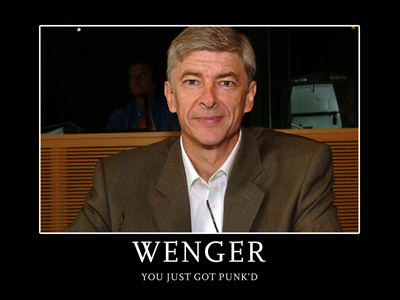 Or he's an evil English agent impersonating a french dude just so he could try and sabotage our locker room atmosphere. I'll let you judge for yourself.
In any case, the man himself spoke out yesterday and said there's absolutely no foundation for this news and he's in fact training hard and looking forward to the upcoming matches.
So what have we learned from this? Well for one, bad news travel so fast that they can't let something like reasonable doubt slow it down. How else can a man get injured, be sidelined for two months, and then miraculously recover the following day.
And no it's not The Island on LOST we're talking about here, it's just the old power of the press doing its daily routine. But before I go on my daily bashing routine, I'll backtrack a little and go over the important stuff again. And that's of course the simple fact that Eduardo's feeling great and he's at disposition to both Bilic and Wenger. And that, well that's just gotta bring a smile to your face.
Subscribe

Croatia World Cup Blog RSS Feed

Share
Comments are closed