Olic Extraordinaire
April 19th, 2010 | by: Mario |

Comments(1)
Surprise! Yeah I know you probably stopped by on this update-forsaken outpost more out of habit than genuine expectation of finding anything new, but hey, guess what, you've got some reading to do! And with loads of stuff happening throughout this month and not nearly enough space to fit everything into a single post, I've decided to break into a few pieces. We start with:
Bundesliga. Olic and Rakitic. Thunder and lightning. Now I'm certain there's a lot of people out there (myself included) who've doubted Ivica's quality and his chances of making it on this high a level, but boy were we wrong. This man, if his lung capacity doesn't disqualify him of being labeled as one, has single-handedly led the German outfit to doorstep of European glory. Nah. You can forget about fancy Robben volleys, or those dazzling Ribery runs. If not for Olic, those tiny bits of football magic would be buried forever under avalanche of boo's their fans would have thrown at them had they not made it out of the group stage back in late December 2009.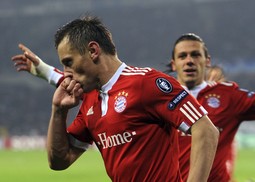 It was Olic who went to Turin and beat Juventus, and it was Olic again who went to Old Trafford and made sure the last of "The Big 4″ was eliminated out of this year's Champions League. And though his last minute winner in the first leg was as crucial as a goal can get really, one cannot argue that his goal at the brink of half time at Old Trafford wasn't at least equally as important when looking at the big picture of this quarterfinal fixture. Because not only were playing away at one of Europe's essential footballing grounds, and not only were they 3:0 down; they were complete and utter kacke, mist, scheiße. (Prepare for a few nasty images if you Google those terms. Don't say I didn't warn you). And somewhere, somehow, again, Olic stepped up and brought hope when visiting side's approach had left them hardly deserving anything, let alone hope. The rest is history of course.
Bayern now face Lyon in Champions League semi-finals, in what promises to be an exciting, all to play for, Olic-to-score-another-winner encounter. But where was Pranjic in all of this? Well, and I'm really happy to say this, he *was* around. While not a first team regular, Danijel did his fair share of hard work, capped off with a solid performance in Munich's first leg against Manchester. Curious though, was the role with which Pranjic was appointed in that particular match. Cause for the last what, three or so years, we've been contemplating on whether his best role was at left back or left wing, and here he was, playing a deep lying midfielder in a match as competitive as they get in regards to club football. He did well, held his position defensively and kept it simple on the offensive department.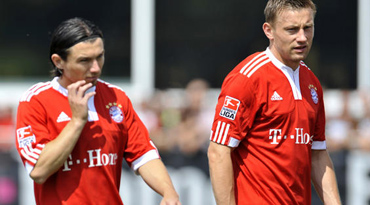 So what's next for these two? Well, seeing as Bayern are alive & rolling in all three competitions (top in Bundesliga and German Cup finalists), they've got plenty of exciting stuff ahead of them. And so does Schalke's Rakitic, who is by the looks of things, playing the best football in his life. Consistently strong performances, capped off with 7 league goals so far (some, well actually most of them fairly spectacular), Rakitic, along with Kuranyi and Farfan, looks to be Schalke's strongest card in an effort to overtake Bayern at the top of Bundesliga. These performances of course led to Rakitic being linked with a couple of big names, with Mourinho's Inter side particularly standing out. While flattering and awarding at the same time, I can still see Ivan staying at Gelsenkirchen for another year, especially with German side looking certain of reaching Champions League football next season.
Mladen Petric? Here you go.
A decent season behind him so far, even more so with a solid record he's having in Europa League, scoring 5 goals in the competiton. And with Hamburg still alive and kicking in EL, let's hope he adds a couple more wonder goals to his name.
Joe Simunic? No fancy links here unfortunately, but seeing as he's actually there to prevent goals like the one above from ever occurring, it kinda makes sense. Though I will say he's had solid season so far, even if same can't perhaps be said for his Hoffenheim side, who are sitting at 13th with 3 games to go. Their record isn't too shabby (39 conceded), but their overall performance left something to be desired, particularly after last season's great result. And speaking of good/poor results, how smart (or poor on Hertha's behalf) was Joe's decision to leave Hertha for Hoffenheim last year? Very smart I'll say, because the Berlin team is sitting at the bottom of the table with zero to none chance of avoiding the drop. Smart move Joe.
Subscribe

Croatia World Cup Blog RSS Feed

Share
Comments

Hey Mario thanks for the updates once again! Olic is awesome to watch whenever I see Bayern in the Champions League. He is a non stop worker, and it is awesome to see that work pay off with frequent goals. I think Pranjic might get a look at left back with Lahm being out on accumulation of yellows for tomorrows clash against Lyon. I hope Pranjic has a solid game, he needs it. It's too bad Croatians are starting to play great football at this time…
Posted from
United States
Comments are closed