Match Preview: Turkey
June 20th, 2008 | by: Mario |

Comments(26)
I always seem to struggle in finding the right opening words so I'm just gonna say: Howdy. There, now that that's out of the way, let's focus on what could be a breathtaking encounter between Croatia and Turkey. Or let's focus on Croatia.

So, injury wise, our main players seem to be in shape. Latest stuff coming in from our camp indicate that Srna is also fit enough and should join the recently recovered Rakitic in the first eleven. Though we've suffered a couple of injuries, one positive is that our "core players" are still left intact (no disrespect to the likes of Knezevic or Budan of course, as everyone's contribution is invaluable).
We've basically seen two versions of Croatia on this tournament: the shiny one (newly introduced 4-4-1-1) and the not-so-shiny one (or our usual 4-4-2). The shiny one was of course the direct result of attempting to patch up obvious emerging flaws of our usual 4-4-2 formation. And despite the fact we've won all 3 of our group matches (we're now actually 1 of 7 sides that managed to pull this out), we've left completely different impressions throughout these victories. Or to be more specific, we've kicked some ass after applying the single striker 4-4-1-1 formation. And if we're to believe the stuff that's been circulating our NT for the last couple of days, there's no obvious reason not to go into tonight's match with the same formation and lineup that faced Germany eight days ago.

Or to be even more specific: Pletikosa, Pranjic, Simunic, Kovac, Corluka, Rakitic, Modric, N. Kovac, Srna, Kranjcar and Olic. Note that each one of these players except Rakitic and Pranjic (Kranjcar was introduced late in the game) sat through the match against Poland, so there should be some fresh legs out there tonight.
Pressure? To be honest, this is a two-sided coin case. I imagine every side that qualified for EURO had a subtle goal of reaching the quarters, and well, we are no different. And considering the fact we've qualified with maximum points, some might go and say we did what was asked of us, and everything else that comes after this is just icing on the cake. This is true, but what's true also is the fact that just these kind of opportunities are so rare and precious it's simply impossible to avoid the (un) necessary pressure. It's all to play for, and I firmly believe that the sole unpredictability of this tournament grants all the quarterfinalists a solid chance to go all the way. "Favorites" or not.
And speaking of favorites, it's a known fact we tend to do well when we're the underdogs, so I can't say I'm thrilled that with the word on the street saying we're to ease past Turkey today. OK maybe not ease, but practically 9 out of 10 people out there hold us for favorites and that's saying something. Let's not do what Portugal did yesterday. Anyway, pulling off good results will eventually rid us of our underdog status so we'll have to start coping with it sooner or later.
We have actually met Turkey in EURO's before, and that was 12 years ago in England. It was our first game in a major tournament and we came out as winners due to a Vlaovic goal late in the game. You can catch a mention of this game back in this post. Here's to history repeating itself.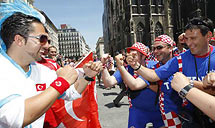 One thing I have to admit bugs me is the amount of mind-games leading up to these matches, and I'm not solely about our match here. There are a bunch of players coming up with all kinds of silly interviews and statements. Sometimes I get the feeling a little more professionalism should be practiced when one publicly states his opinions. Verbal punches are too often hit "below the belt". But I guess this is what teases both players and fans and therefore makes everything all the more interesting. Or not. Beats me.
Oh and the number 200.000 I mentioned yesterday, of course you guessed what it meant. The word on the street (I'll start abusing this line, at this pace anyway) is that 200.000 Croatians will be present in Vienna today, and please note that only 6.000 actually have the tickets for the match! Now if that's not enough of a reason for us to get your affection, well I don't what is. There's bound to be some wonderful photos and videos coming in from Vienna as well, so I'll make sure I post some of these up for everyone to enjoy.
Just a couple of more hours to go.
Subscribe

Croatia World Cup Blog RSS Feed

Share
Comments

well mate your support didnt work and crotia become a loser hahahhaa….weldone Turkey….Your name is on this trophey.
Posted from
United Kingdom

Oh bother more Englishmen cheering on Croatia to boost their own egos. Well guess what they couldn't score for their lives and when it came to penalties faired worse than England. Hey maybe you all have a relationship after all. That is that of LOSERS. Good luck to Turkey and Germany!
Posted from
United States

It was a ridiculous game, I'm pretty sure I saw a Turkish jersey underneath the ref's.
I would say fair enough, but Turkey did not deserve it. They played boring, stupid, unwatchable football. And don't give me that "they played with their heart and soul" because if you take a look at Croatia's goal, the Turkish defender attempted to bat it away with his hand which in my opinion is an attempt to prevent a goal-scoring opporunity and deliberately using one's hand to make contact with the ball aswell as a professional foul, so I guess they played with they're hands, not their hearts.
I would also like to know how Turkey scored in the 122nd minute, considering there was only 121 minutes to be played including injury time. Aswell as the referee refusing to allow the Croatian sub come on before the play that led to the Turkish goal.
Also, in that play, a Turkish attacker leapt into the air to head the ball but instead took out two Croatian defenders by landing on them deliberately, which gave the opportunity to whats-his-name to bang in an easy, but illegal goal.
Turkey better look up because I think we all see a big German schizer dropping on their heads next round. Have fun getting taught the rules of football boys.
All you Turks feel free to give your feeble attempts at a counter-arguement but the truth was Croatia were a better team robbed by the ref and Turkey were lucky, sly but clever as yes, it just about paid off…this round…
Posted from
Ireland

The Turks were lucky but the game was fair. You wouldn't call Bilic wasting time celebrating on the pitch as sly? You wouldn't call bringing on a substitute and time-wasting with 30 seconds left clever? That being said Turkey has run out of luck. They are not playing England next.
Posted from
United States

Sly but legal
Posted from
Ireland

Poor Petric. Sucks that he had to take that last kick, immense pressure that must of been!
He was/is my fav. Croat player, apart from E.Silva. Hope he makes a move to Barca =)
Ps- How much did Croatia miss Eduardo's presence? Would it have made a difference?
Posted from
Canada

I'm Turkish and I feel Croatia should've won. Turkey's just being lucky.
HOWEVER, four yellow cards for Turkey and none for Croatia? it didn't feel that Turkey was being that hostile towards Croatians.
Posted from
Turkey

A refree with a Croatian mother. This was the worst assignment that could have been made! Turkey deserved to go through. Good luck crescent and star! Take it easy Croatia.
Posted from
Turkey

Referee did not see the penalty made to Turks (Tuncay?). Also referee used all his cards for Turkish players. Turks deserved to win the match. They fought till the end. In the late 30 minute Croatians could hardly walk. Turkey beat the referee and Croatia! Turks have better players.
Posted from
Turkey

B R A V O CROATIA.BRAVO BILIC.From ALBANIA
Posted from
Albania

Are you moron Daniel Kelly ? i sure.
Posted from
Turkey

It was fun to watch. I didn't like referee's unfair decisions against Turks and the penalty for Tuncay Sanli.
Well done Turks, I had fun…

The Turks have played all their lucky cards and
are now riding with their heads on cloud nine
(Nine lives, that is).
The Germans will whip them in the semifinal, don't worry.
Posted from
Malaysia

Daniel Kelly…I entirely agree with you statement w.r.t this game. The Turks in my view did not deserve to win this game and really did not make a concerted effort to actually try and win it until the end of the game (and the outcome was controversial in any case as the whistle should have sounded earlier). For most of the game the Turks sat back, clogged up the game making it uninteresting with Croatia doing all the work and they were unlucky not to find the back of the after 90 mins. For Turkish supporters out there I am not trying to have dig at your country I am just criticing this style of play and would do so for any country playing negative football…In summary Croatia were unlucky for not winning and Turkey played a negative yet determined game and attained a lucky result. The only criticism I can give to Croatia is that they need to work on their mental toughness when they get dealt with unfair ref decisions but they will be back as most of their team is young.
Posted from
Australia

Türkiyeeeeeeeeeeeeeeeeeee
:)

if anyone could guess the results before the matches , football would be a dull game.
I admit Croatia played better football..but heaven was supoorting the turkish team..have u ever think that half of the turkish team is injured or suspended? nobody can deny the power of a team who wins 3-2 against Czech republic in last 30 minutes
Uefa doesnt want Turks to go further..Referees were not objective against this team during the tournament..Undeserved yellow cards, wrong desicion about penalty position(tuncay)..rememeber the czech match, all desicions were against turks.
is it fair arranging a half croatians referee to this match(His mother is from Croatia)
did croatia deserve to win? absolutely no..they missed a lot of opportunities throughout the match…basic rule: if you cant score you cant win… they couldnt score even with penalties
turks didnt even miss one!
Are turks lucky? No they are unfairly lost all of their important players (By the help of referees)
I think germany will beat Turkey. But I certainly know Turks would be finalist if they were full team.. Holland and Spain plays good football and maybe one of them will reach the cup..but after Euro 2008 its worth to remember turks will to win
never surrender Turkey..your team is the color of this tournament You won against referees and your powerfull opponents.
congrats from Brasil (from the capital of football)
Posted from
Turkey

yeah i mean just look at this, referee consoling the players after the match. so much for objectivity. i'm glad that Turkey won but I admit that Croatia played better/best.
http://www.internethaber.com/images/other/1.20080621180022.jpg

Hey guys, after all who cares if the game was boring, Turkey did nothing but Crotians have done all the job, the cards were unfair, etc…
Is this game gonna be remembered after 10 years?
YES!
Football is all about a few moments of amusement and unpredictable surprises.

Turkey was just plain lucky to win that match against Croatia.
I think they have played all their lucky cards and will be
knocked out by Germany in the semifinal.
I think right after Croatia's goal, with just one more minute
to go, they should have slowed down the game
and packed their goalmouth, rather than pressing forward
again – a critical error. Reminds me of that World Cup game
years ago, when Italy made the same error.
With due respect, I think Vedran Runje should have been
the first choice goalkeeper. Stipe Pletikosa is good no doubt,
but not exactly your best penalty stopper.
It is also a pity that Tomislav Butina has retired, otherwise
he would be my first choice, with Vedran Runje second,
and Mario Galinovic third.
Also, I think the Parma striker, Igor Budan, should have been
in the match against Turkey, rather than Ivica Olic or Ivan Klasnic.
Good luck at the 2010 World Cup, as well as the 2012
European Cup.
Posted from
Malaysia

BRAVO SEMİH!!
I don't understand why crotia felt suddenly dissapointed with Semih's goal? Although we had the same chances on the penalty kicks.They accepted loosing at that time! and could'nt hit the easy penalties..sorry It was completely crotia's faul..

"Tomorrow is a new day, the sun will still rise. We'll probably cry for a few days but such is life. Things like this have happened before but these are extreme situations. My players have a strong character and will be back even stronger." – Slaven Bilic
i think that says it all
Posted from
Australia

***Make Love Not War***

Chris, you should be glad that Turkey avenged the elimination of England from the EURO by eliminating the team responsible for England's elimination.
Moreover, the Turkish squad also includes one UK-born player (Kazim-Tichards) who has both nationalities and whose heart beats for both countries, so it is because of Turkey that a part of England is still represented in the EURO semi-finals.
Posted from
Canada

I am realy happy from win of turkey. turkey take very great victory in the last second of the match. azerbaijan
Posted from
Islamic Republic Of Iran

all says Turkey didnt deserved ?? are all watched all match ??? Hey Golden goal rule is finished ! Now Turkey will be champion of euro ! And still they dont want to accept Turkey ! Match is 90 minute or 120:) Crotians thought Turkey is comeback team and because of that they waited 120 minutes for score goal but it didnt work ! and Crotians said Turkey on Menu ! Now are You still hungry or You need just a cold water ?
Posted from
Turkey
Comments are closed