Marching On
March 1st, 2010 | by: Mario |

Comments(2)
That's much better. After months of mixing, pondering and experimenting, Harry Redknapp found the right ingredients for his winning Tottenham formula. OK, so they've won a few times before and are sitting in that oh-so-valuable 4th spot, but this win, this is something we should all be delighted with.
This was the first time all of our 3 musketeers started and played the whole match through and through. And not just that, but it was their interplay that led to a fantastic Modric goal, which proved to be a match winner in the end. Though comfortably up in the first half, Spurs were made to work hard for all three points as the visitors kept pushing for the equalizer right until the final whistle.
Blackburn predictably lost away to Liverpool, but with Kalinic now firmly cemented in Rovers first eleven, we can't have any complains there. The rest of our Premiership force ain't involved as much, with Eduardo back on the bench after an injury Klasnic being played periodically. Though, regarding Klasnic, if the reports I'm seeing are accurate, he's doing good things with the time he's being given.
Still in Premiership, Srna has apparently made some baby steps in his (long overdue) transfer to Chelsea come next summer. It's still miles (and months) away, but I'd (and probably everyone except Shakhtar fans) would love to see Darijo sign for a top club on a top level. Not to disrespect Shakhtar or anything, it's the league standard that I'm referring to here mostly.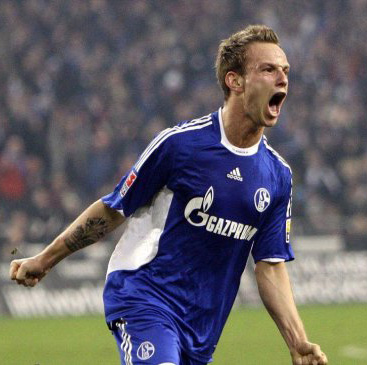 In Bundesliga, Rakitic scored a beauty in Schalke's 2:1 win over Borussia Dortmund, earning himself the man of the match title in the process. The brightest spark in a title contending side, this is definitely the Rakitic we all want to see. Bayern played HSV, with Olic and Petric featuring and Pranjic sitting through the match as an unused substitute. With Bayern coming out on top with a 1:0 win, it looks like a repeat of pretty much every Bayern weekend for the last couple of months. Bayern wins, Olic gets scraps while Pranjic dozes away on those comfy benches. It's ironic that we should actually cheer for a couple of poor results for Bayern, just so the coach mixes it up a bit and gives our players more playing opportunities.
Looking at the Bundesliga table, it's a nice view once you consider that out of top 4 clubs, 3 have at least one Croat in their roster, Leverkusen being the only exception. Honorable mention goes to Zvonimir Soldo and his Koln side, who've managed to upset Leverkusen with a goalless draw and surrender the league leaders position to Bayern.
In France, Runje couldn't help his side to better then a 1:0 away loss to Toulouse, while Dejan Lovren was benched in Lyon's 2:0 win over Nice. After a string of first team appearances and with a few Lyon regulars returning from injuries, Lovren has sat through the last few matches. There was a lot of talk regarding Puel and his decision to use Lovren so soon and so often, and it looks like the coach decided to play it safe for now.
Before closing this week off, there's a brief visit to Serie A we have to make, where Igor Budan came on as a substitute for Palermo and less then a minute later scored the second goal for visitors in their 2:0 shock win over Juventus. Budan sort of fell under the national team radar for the last year or so, yet with the likes of Mandzukic and Kalinic on the verge of first team, a few more moments like this and Budan might be an option for Bilic to consider.
Subscribe

Croatia World Cup Blog RSS Feed

Share
Comments

Mario, great blogs.
Keep up the good work.
I absolutely agree with you and I know our boys need to go abroad to get the exposure and money but I always feel as though they do not get adequate playtime or club appreciation which affects our National team. How many injuries / lack of match play / poor training strategies / shocking wild field tactics – do we have to remedy as a result. Maybe I'm being negative but when we watch our boys play the whole world, and expecially we Croatians, enjoy the effort / excitement / skill and tactics they show us. Tell me what national team players demonstrate the situations that our boys can create on and off the field? e.g. Tot. vs Everton – maybe only some South American players. I think I'm having a bad hair day or maybe I've hit the nail right on the head.
Bog i Hrvati
P.S. Hey how great was Ivica's effort at the Olympics – another tremendous show of our sporting prowess.
Posted from
Australia

Hey mate, you've let your soul out right there, thanks for that

I agree, there's often that spark about our players that you seldom see elsewhere. Though I might go a bit off topic here, I'll try and speak of few things that come hand to hand with this.
Looking at it now, loads of our sporting success was/still is based on individual effort(Kostelic family is a prime example, Vlasic family another), rather then having support of appropriate federations etc. People have the talent but are so often shunned away by some stuck up politician who bought his way into sport and has no interest rather then his personal one. Anyone will tell you this, we've got crap government, crap support for any kind of sporting development, yet we pull off so many great results. It's like we're out to prove ourselves, and I'm not thinking about the world here, but ourselves first and then each other after. We're a strange breed, I'll give you that.
Also, I think a lot of this energy comes with the high amount of diaspora folk we have in sport/in general. People who were born in Croatia (or of Croatian roots) but raised abroad will always have that patriotic line a bit more underlined, and, particularly in sport, it brings a lot to the table in terms of motivation.
But I've made this reply a mile long already, so I better stop here. Thanks again for the comment mate.
Comments are closed