Looking Good From Our Perspective
February 7th, 2010 | by: Mario |

Comments(5)
Not to show disrespect to anyone (actually I'm pretty sure the feeling of being happy with the draw is mutual with all the group participants), but we've just been handed one helluva favorable draw.
We drew Greece, Israel, Georgia, Latvia and Malta in Group F of Euro 2012 qualifiers. Greece, though Euro champions recently, are probably one of the more predictable sides we could've drawn from pot 2. A well organized side and a tough nut to crack, perhaps equivalent to the Ukraine side we faced in our last WC qualifying cycle. We've faced Israel a couple of years ago as well, came out victorious in both matches. Still, that one promises to be a tricky away fixture.
The rest of the group with Georgia, Latvia and Malta, looks favorable as well. Georgia and Latvia are sides known to cause an upset or two on their day, with football slowly but steadily on the rise in both nations. Still, the gap in quality ensures us to see these as routine fixtures. As for Malta, well they're Malta. They won't beat anyone but it sure as hell won't stop them from trying.
Oh and I've just noticed that Greece, Israel and Latvia have actually played each other in WC 2010 qualifiers, in what was a pretty tightly contested group.
Here's how the whole thing played out today: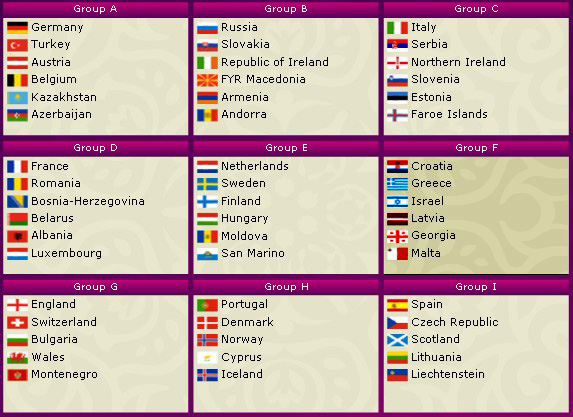 Yep, looking good from our perspective.
Subscribe

Croatia World Cup Blog RSS Feed

Share
Comments

Very good draw for Croatia and Greece. Hopefully we'll join you in Poland/Ukraine in 2012.
Posted from
Norway

Thanks for that, best of luck to Norway as well.

Your group does looks balanced, with none of the teams particularly standing out quality wise.
Portugal do usually have a bigger crop of quality players to choose from, but I'm somehow convinced that Queiroz is bad enough as a manager to completely neglect that advantage. Hopefully Portugal will have a not-so-awful WC so he stays on the bench for the next cycle.

An excellent draw for Croatia. Being in the first pot isn't a guarantee for a good draw (like your 2010 qualifiers have proven) but this seems like a quite the different story. No big names, just an unpleasant duo of Greece and Israel threatening to claim the top spot. This can backfire, though, because both teams are probably happy to draw Croatia instead of Spain or England and will see this as their chance. I don't think it will be easy at all, but I expect Croatia to qualify after a long struggle with Greece and Israel.
All the best from the Serbia blog

@Nikola:
Agreed on all points, it'll take a cool head & motivated approach for us to top this group, no doubt about that. But it's been a while since we were actually "the biggest fish in the pond" so to say, and I gotta tell you it's a feeling we could get used to.
But aside from that, I'm not sure you folks in Serbia heard the massive sigh of relief from around Croatia when we dodged your (and Slovenia's for that matter) group. Not so much due to history but more for the fact that you were probably the strongest side in tier 2. It's a decent draw for you guys in the end, Italy is always Italy but with a bit of luck I don't see why you shouldn't be able to top the group.
But you've got the big stage coming up soon so there's plenty of time to talk about Euro 2012 later on. Oh and thanks for commenting, pozdrav!

Croatia cannot complain it was a good draw. No reason why we cannot beat Greece and Israel. Bilic has plenty of time to prepare. Is the HNS sending scouts to South Africa to watch the Greek team? Capello studied every toe of the Croatian team. The focus needs to be on Greece and not Israel.
Posted from
United States
Comments are closed