London Calling, Part I
September 7th, 2009 | by: Mario |

Comments(2)
Or W for Vendetta. As in Wednesday's the time for revenge. In between these two highly unoriginal titles, I decided to go for the former. But anyway, before I start of rambling about the upcoming encounter, I'll write a few lines about the match we literally had to survive on Saturday evening, the Belarus one. Now, most of you probably we won (1:0) and that's where the story should end, but I bet there's a fair few of you out there who don't how incredibly hard fought this Saturday's encounter was and just how narrow our escape was in the dying minutes of the match.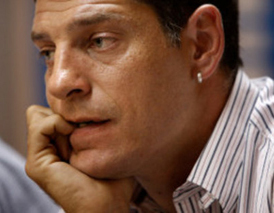 To say we expected a smoother ride would be an understatement, particularly when taking into account the ease with which we strolled to a victory in Minsk just three weeks ago. But that victory (3:1), oh boy did it have us fooled. With Modric out, Bilic opted for a solution everyone had anticipated, to bring in Kranjcar as a direct replacement. But as Bilic himself explained, you can't replace Modric with just one player, and it took a team effort to successfully (?) fill in for the little guy. With the rest of the team pretty much intact (Vukojevic starting again after impressing in Minsk), the general idea was to press hard early on, nick a goal, and then build on that advantage later on in the match.
But Belarus knew better (credit to their German in charge, Stange, to whom I'd also like to apologize for laughing at his pre-match statement in which he claimed his team came to Zagreb to grab all 3 points: sorry mate), and with an extremely disciplined, mobile and determined performance, they had us sweating from the second the first wave of Belarus counterattacks started pouring in. All in all, a strong performance from the visitors, with only the lack of concentration in front of goal & some brave goalkeeping keeping them away from grabbing a point (or rather all three, if we're to be perfectly honest) on the evening. But not to go into deeper analysis, some points were made painfully evident after these ninety minutes:
a) Modric *is* our midfield. Despite a strong performance from Kranjcar (and his midfield partner Vukojevic while we're at it), the lack of mobility in our midfield was obvious, and there lacked a persona who could receive, hold up, and then pass the ball to the right person at the right time. Niko, nor anyone else in the roster for that matter, has the profile that guarantees that kind of performance.
b) We can't underestimate anyone. We keep on doing it and it keeps bouncing back and slapping us right in the face. And while we're at it, we mustn't underestimate ourselves either, the game on Wednesday is what I'm having in mind.
c) This one's a bit more positive. After having won the game with what you could basically call an own goal (Rakitic had his shot deflected), we can now officially proclaim that we indeed have the capacity to win ugly. Some say only big teams can pull it off, others call it blind luck. The truth is probably somewhere in the middle.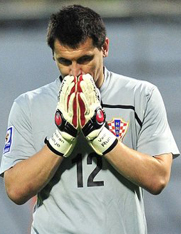 d) And another positive one (I'm on a roll here). We do have a goalkeeper in Runje. The man who's arguably the most accomplished Croatian goalkeeper today (at club level obviously), has always had bad luck with being called upon only to take part in the most freakish of games (4:3 win over Israel comes to mind).
Basically, whenever we had him in the lineup, you could almost sense we'd concede at least one goal in the game at hand. But the funny thing is, arguably none of the goals we ended up conceding were his fault. Karma I guess. But with the saves he pulled off on Saturday, particularly after we went down to ten men (Corluka got a second yellow for stalling), he's injected a whole new dose of belief both in fans and more importantly, himself.
Closing the Belarus chapter and looking ahead to Wednesday with problems both old (replacing Modric) and new (Charlie suspended), Bilic will have just a few days to reorganize and revitalize his troops, because what's coming up, well it's a monster game. And with a review coming up for that match, I'll light the fuse with a couple of lines from The Clash's "London Calling" track (how fitting, both track and artist names):

Now get this
London calling, yeah, I was there, too
An' you know what they said? Well, some of it was true!
London calling at the top of the dial
After all this, won't you give me a smile?
Subscribe

Croatia World Cup Blog RSS Feed

Share
Comments

I could barely watch the last 10 minutes. I will never again complain how we were robbed in Euro08 by the Turks. After last Saturdays game, I concider us even. It was the worst win ever. Runje stopped 2 brakeaways and that great stop from a header coming from a corner kick. If it wasn't for him our World Cup hopes would be over.
On a positive note, I thought Kranjcar did fairly well. He made a couple great passes to set up Olic but Olic was a step offside both times.
As for England… Its going to be a tough one, missing both Modric and Corluka will hurt us against a strong England team. We tend to play to our competition, the better the team the better we play. It will be interesting to see what lineup Bilic makes up. With Corluka out Srna might be moved to right back which would open another spot in midfield.
How do you like this lineup…. Pranjic, Simunic, Krizanac, Srna along the back. Kranjcar, Rakitic, Vukojevic and Olic in the middle. And Eduardo and Mandzukic up front? Works for me, a point tomorrow will be enough for me.
Posted from
Canada

Yeah, it was a pretty dire thing to watch. I like the team you wrote there, though I might switch between Olic and Mandzukic (Bilic did use him on the flank against Belarus). A point? Well that'd do us good only if Ukraine drops some points in Minsk today, so let's hope the hosts do us a favor and cause an upset. It's played earlier tonight so a good result might give a boost to our players, knowing they have all to play for (though the stakes could hardly be any higher).
Posted from
Croatia
Comments are closed