Late Weekend Report
January 20th, 2010 | by: Mario |

Comments(2)
Due to some extraordinary circumstances (not involving spaceships and abductions;or at least I think not), I've managed to skip writing on last weekend's action. And being the cheapskate I am, instead of writing it down now I'll simply pretend that last week never happened. Ha! But anyway, now that I've demonstrated my time altering powers, it's time to write down something that actually makes sense. Finally, Bundesliga is back in action! Jawohl! And it just so happened that on this first weekend we saw Olic and Pranjic battle it out with Joe Simunic.
While indeed all 3 players had made appearances in the match (Olic was substituted and Pranjic was brought on later in the match), only Simunic did the whole 90 minute routine. Still, the 3 points and the ultimate bragging rights stay in Munich, as Bayern won the match 2:0. Meanwhile, Petric scored his fourth of the season in his team's 2:0 beating of Freiburg. Hamburg's No.10 took advantage after a defensive blunder and beat the keeper from short range with his weaker right foot.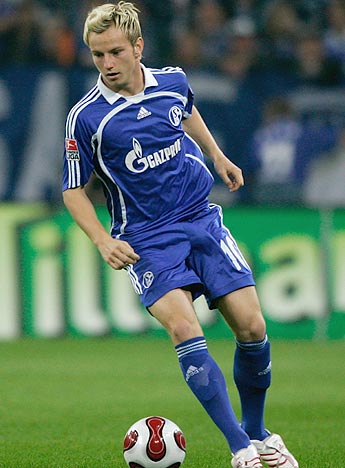 Also in Bundesliga, Rakitic had a busy weekend, playing the whole 90 minutes in Schalke's 1:0 victory over Nürnberg. Further on Rakitic; for quite some time now I've felt that his progress has hit a brick wall. I remember a few years back he was this extra promising young forward, banging in goals and assists and making headlines with rumors that the likes of Inter Milan were interested in signing him. Yet, since then till now, he's somewhat struggled to win back/keep his spot on the team, and his overall progress has, at least according to my own impression, stagnated. Still, he remains a massive talent (among the top in our current crop of players surely) and let's hope he can get back on track as quickly as this spring.
Back in Premiership, loads of stuff to report on. As always, our first stop is North London. Modric, Kranjcar and Corluka played the whole 90 minutes in their club's goalless draw against Hull City. I swear, the day when Tottenham field more Croats then English is fast approaching. And as if to further bolster this theory,rumor is that Pletikosa was actually having a medical in London a few days ago. Stipe has made it known on numerous occasions that he's very fond of Premiership, but misfortune struck as his knee is apparently what halted the deal. As for the game itself, it's worthy to note that our playmaking duo occupied the wings, Modric on the right and Niko on the left side of the pitch. Being similar in profile, general opinion is they both drifted in a bit too often.
Besides the Tottenham trio, we have 3 more strikers to report on. Eduardo and Klasnic had a mini duel on Sunday, when Arsenal made a trip away to Bolton to try and keep up with league leaders Chelsea. Despite a strong performance from Klasnic, with whom Gallas was struggling throughout the match, Arsenal came away victorious. Dudu played a big role in his side's result, with 2 assists of which the first one was quite fantastic. Catch a glimpse of it in the highlights below. Kalinic, who's been getting more and more playing opportunities, has had a run of bad luck in terms of finishing lately. He gets into quality positions but somehow always rattles the crossbar/woodwork rather then the back of the net. Everyone around the club has been pleased with his commitment and performance, and there's a general consensus that he only needs to break this barrier for his goals to come pouring in.
And lastly, yet another Croatian youngster has made the headlines last week. Dejan Lovren, formerly of Dinamo Zagreb, signed a hefty contract with French giants Lyon. While it was rumored that Tottenham are prepared to sign the man, Lyon were more determined and got their man in the end. This means that our French contingent is rising and now firmly standing at … two. Well, it beats one, that's for sure. Speaking of that one, Vedran Runje of Lens, he's been as consistent as ever, helping his team's effort to hold out for a 1:1 draw after having a player sent off. Boring player, Runje, isn't he? Always playing and playing well. How inconsiderate. But anyway, head over to Lyon Offside to see how the Lyon faithful welcomed Lovren into their ranks.
Subscribe

Croatia World Cup Blog RSS Feed

Share
Comments

Thanks for the updates once again! Things seem to be going in a pretty positive direction. I hope Croatia's players have another solid weekend.
Posted from
United States

Hey mate, thanks for the thought.

Though I'll be late a bit with this weekends report as well (busy as hell with a couple of things lately), I'll go back to the weekly routine as early as next week.
Cheers & stay tuned!
Comments are closed