February Weekend Report
February 15th, 2010 | by: Mario |

Comments(3)
It's been a while, but weekend reports coupled with some (attempt at) bad taste humor are due to come your way in a much more reliable fashion. But this time, let's get right down to business. In Bundesliga, it's mixed news for our Hamburg star Mladen Petric. His team did indeed win but it was his substitute, a relatively unknown Dutch striker who goes by the name Ruud Van Nistelrooy, who scored a quick brace to remind everyone (including Petric) just what kind of a finisher he is. Once a world class player, always a world class player. With the exception of Ronaldinho of course. A bit harsh but let's move on. Rakitic played the whole ninety minutes in Schalke's 2:0 win over Zvonimir Soldo's Koln side. Rakitic looks as if he has established himself in the first eleven and Schalke look like they're capable of mounting a title challenge this year. Looks promising altogether.
Bayern's form is still red hot, even if our duo isn't exactly making the same impact as before the winter break. Against Dortmund Olic came on as a substitute with twenty minutes to go and Pranjic sat through the match. We'd like to see more from our Munich duo but with Bayern's winning row extended to 12 matches now, you can understand Van Gaal's decision in not changing the ingredients of what seems to be a winning formula.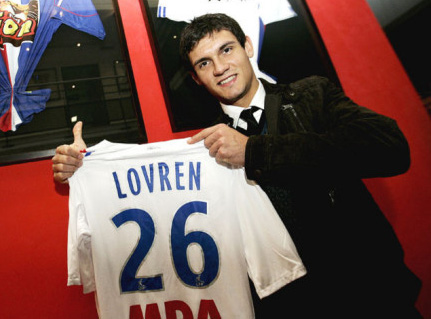 Yay, we've got a new league & new face to report on. In France, at Lyon to be more precise, Dejan Lovren has already established himself as a first team player. Need I remind you that it's been a month at most since his transfer from Dinamo to Lyon, and this guy has already got a handful of starts under his belt. Acclimatization? What's that? A fantastic start for the youngster, as he promises to be an integral part of Lyon's back line in years to come. In regards with this weekend, Lovren played the whole match against Runje's Lens. Lyon won 1:0, in a fixture we can now officially declare our french-croatian derby.
Meanwhile, back in our favorite Premiership, Tottenham are struggling. And there's a tiny coincidence their slip of form started around the time both Modric & Kranjcar were both fit and ready to play. Harry Redknapp seems to have dropped the idea of having both of our midfielders start the match, and now simply prefers to rotate them on Tottenham's left side of midfield. Ideal scenario? Modric in the middle and Kranjcar on the left, or what I like to call (uninspiring I know), the Bilic way. Anyway, this weekend in England was reserved for FA cup matches, which saw Tottenham earn a replay at White Hart Lane after drawing 1:1 away at Bolton. Moving on, Kalinic looks like he's settled in at Blackburn and is starting to play a significant role in Rovers' mid table exploits.
To be honest, I wasn't quite expecting Kalinic to break into the squad this fast, especially after a relatively slow start he has had. Good times for Kalinic, not so good for Klasnic and Eduardo. Both are struggling with injuries, with Eduardo's one coming at a particularly, excuse the language, crap moment. Arsenal had a string of decisive matches, and Eduardo once again had to sit through these sidelined. Few things in life are certain, and Eduardo NOT winning the lottery is one those things. To illustrate (that bad taste humor I was mentioning):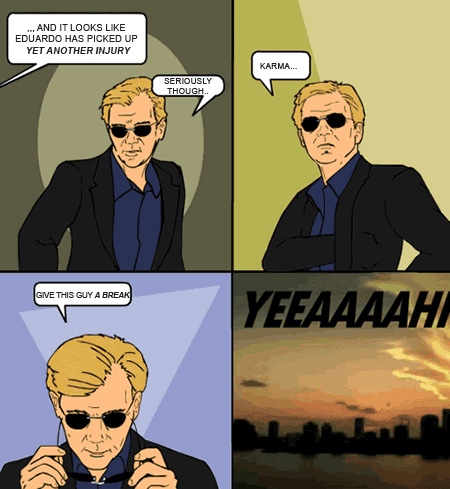 (…I know, I'm sorry)
Subscribe

Croatia World Cup Blog RSS Feed

Share
Comments

keep up your reports…i know a lot of people are interested in croatian team, many people are reading this blog, so update more my friend!
Posted from
United Kingdom

Seems like a lot of teams have upcomming friendlies for world cup and other preparations. Does Croatia have friendlies soon?
Posted from
United States

@cicco:
Will do mate, though I've unfortunately made a bad habit of being late on almost every single deadline I've made.
@Kevin:
A friendly against Belgium is coming up in 2 days, and to be fully honest this one sort got me by surprise, I guess I had my dates mixed up. I'll do a short review (if not a preview) on it as soon as it unwraps.
Cheers.
Comments are closed