Dinamo Dominate, Modric Bids Farewell
May 11th, 2008 | by: Mario |

Comments Off
A crowd of 20.000 gathered yesterday at Maksimir to greet the new/old Croatian First Division Champions, Dinamo Zagreb. That same crowd seemed to have inspired the reigning champions who went on to thrash Rijeka with a 6:1 scoreline. To make matters worse for the visiting side, the scoreline actually flattered them.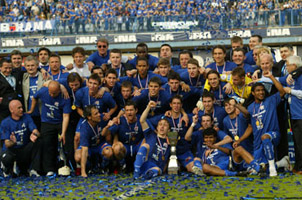 To recapitulate, Dinamo have won their record 10th title since we declared independence (17 seasons so far), and this time they did it with a margin that's bound to break a domestic record or two, a massive 28 point advantage. This, combined with their 11 point breakaway back in 2005/6 and last season's 20 point advantage, proves that Dinamo indeed does dominate domestically (sounds a bit like a tongue twister doesn't it?). Another thing that's worth mentioning of course, is the farewell of that Modric fellow who stole the headlines in pretty much every British newspaper just a couple of weeks ago.
This was Luka's last game in Maksimir before heading to Premiership, and it was a farewell that the player himself stated he'll never forget. Here's a recap of yesterday's game, and the ovation Modric received after being substituted late in the game:
Dinamo aside, the surprise package of this year was surely Slaven Belupo, a team that nicked the 2nd place with a 0:0 draw at Sibenik. This is actually Belupo's highest league finish ever, so as a reward for this wonderful achievement they'll get a go at next years UEFA cup competition, along with the rest of our European challengers: Dinamo Zagreb (UEFA CL), Hajduk Split (UEFA) and Osijek (3rd placed, Intertoto). Both Rijeka and Hajduk, who were tipped as league title contenders back in August last year, end their season on a disappointing 4th and 5th place respectively.
There's but a single game of domestic football to be played before EURO kicks off, and it's the second leg of the cup final between Dinamo and Hajduk Split. It's almost a done deal though, as Dinamo head into the fray with a 3:0 advantage, courtesy of a superb 1st leg performance.
Subscribe

Croatia World Cup Blog RSS Feed

Share
Comments are closed