Cup Glory, Croatian Style
January 4th, 2010 | by: Mario |

Comments(1)
And while pretty much every league out there is halfway through and on winter break, the British are still marching on. This means it's yet another Premiership exclusive weekend, but with one slight difference this time around: there's plenty of good stuff to write about. So let's get right to it. At Tottenham, an apparent injury to Aaron Lennon saw Redknapp try a starting lineup that featured two of our finest playmakers, Luka Modric a.k.a. Modders and Niko Kranjcar a.k.a. Krunchie. Yes, I know. Remind me to get my a.k.47. next time someone comes up with nicknames like these. Anyway, the lineup with Modric and Kranjcar not only worked, but saw Niko score a brace, of which the first goal was particularly effective. Catch a glimpse of it below:
Our creative duo occupied both wings and proved to be too much of a threat for the lowly Peterborough side. And while Corluka was benched this time around, it's expected that all 3 of our Tottenham musketeers (or stooges for that matter) will be in the starting lineup for Tottenham's upcoming tie against Liverpool. This would indeed be the first time that happened since Kranjcar was recruited in summer, and one probably couldn't have imagined a finer venue then Anfield to celebrate such a sweet occasion. Good times.
And while his task was always gonna be harder then that of our Tottenham crew, Kalinic did well in his side's 3:1 defeat at Aston Villa. Kalinic played the whole match and got on the score sheet early in the second half, pulling his Blackburn side back into the match after the visitors were 2:0 down and reduced to 10 men before the half time whistle. An uphill battle lost, but Kalinic will look back at this one with confidence. At Bolton, who've dealt with Lincoln City with an easy 4:0 victory, Klasnic played the whole match and provided an assist for one of the goals. Now's a good time to put in good performances for Klasnic, as Bolton have parted ways with Gary Megson and a new coach is about to be appointed.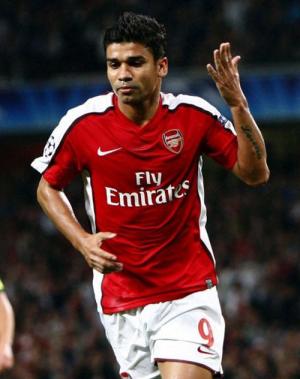 And of course, to cap a fine weekend off, Eduardo scored the winner in Arsenal's 2:1 victory away at Fulham. While his touch is still a bit rusty and his all around performance is still a way off then what we usually expect from him, 3 goals in 3 matches means Eduardo is slowly but surely gaining his confidence back. Oh and did I mention the goal was a beauty, a fine header won against Upson & beating R. Green between West Ham's posts. Both of these are potential candidates for England's World Cup squad, but I'm not insinuating anything.
P.S. while there was actually another batch of matches played back on Monday through Wednesday, I've decided to rather focus on the FA Cup one's, as it was pretty much good news all around. But I will say that Eduardo scored a lucky deflection from a free kick and Modric scored with a cool finish to celebrate his return to Tottenham's first eleven. Arsenal and Spurs won their matches 4:1 and 2:0 respectively. All in all, a fine weekend display by most of our players.
More of the same please.
Subscribe

Croatia World Cup Blog RSS Feed

Share
Comments

All our boys had a good week
Posted from
Canada
Comments are closed