Belarus Closing In
July 25th, 2009 | by: Mario |

Comments(5)
Seeing that there's a lack of bombastic news coming in from our camp, let's see what news are worth a mention. Ivica Olic, who's been quite excellent in Bayern's pre-season efforts, has picked up a knock and we'll be sidelined for at least a week, two at most. As reported, our Slavonian Speedster (don't ask) landed awkwardly during a training session and ended up straining a knee ligament. Fortune in misfortune is, of course, this is as good as it gets in regards to knee injuries. Ten days and he'll be good as new. Besides, do you honestly think anything could actually stop this man from running?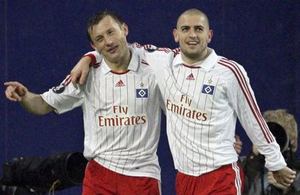 Moving on, or rather moving up further north, Mladen Petric has also had a fine pre-season with Hamburg, nicking a goal in T-home Cup Hamburg's 3:0 win over Stuttgart. One interesting detail though, in an interview given to local newspaper, Petric said he'll celebrate his next goal with a "moonwalk", thereby paying a tribute to the recently passed away King of Pop. I can see football studs causing him a problem or two in this one, but it's certainly a gesture worth keeping an eye out for.
Moving a few weeks back in time for this one, Darijo Srna looks poised to stay with Shakthar Donetsk for eternity. As it turns out, Rinat Ahmetov's Hryvnia have grown so much on Darijo that he's successfully resisted the temptations of more illustrious Western European cultures. I am definitely harsh on the man, but I'm sure there's a lot of us out there who'd like to see Srna compete with the very best, week in and week out. I guess we'll just have to wait to see if this time next year Srna feels a bit more "adventurous".
So, let's recapitulate on how things stand ahead of the Belarus game, which is in something like three weeks time from today. What we know for certain is that R. Kovac is out, having injured his foot in Dinamo's pre-season meeting with Steaua a couple of weeks ago. While his recovery could match the date of the Belarus game, neither Bilic or Robert are willing to take any chances and younger Kovac will have to sit through the task. Eduardo should be fit, Olic as well. Rakitic unfortunately looks likely to miss out on this one, after being sidelined for a few weeks with an ankle injury. After a season to forget, Rakitic's bad karma looks determined not to back down, as the last thing he needed in the midst of all that fighting & proving going on at Schalke right now was an injury to hamper him down. Godspeed recovery to you Ivan.
As for us, well it's time to start exploring Belarus. Pryvitańnie!
Subscribe

Croatia World Cup Blog RSS Feed

Share
Comments

1st… I dont think Srna staying in Ukraine is all Srna's fault. I think he was willing to leave but Shaktar was not willing to let their captan go. Putting a £16million price tag on Srna was enough to keep most clubs away. In one report Bayern's director of sport was "put off" by the transfer fee.
2nd…. 3 weeks away till the next world cup clash. Can we please have an exhibition game before the Belarus game. Please, please, please!!!!! We havent played together in months, and the last time we did we didnt look so good. We have to get 3 points out of this game, no ties, it has to be a win.
3rd…. Whoooot, Kalinic is in Pompey, to team up with Niko Kranjcar. £6.4 million transfer fee (which Kalinic gets 25% of) and a £20,000 a week salary. Not bad for a 21 year old from Solin. Pompey is pretty thin at striker so Kalinic should get the starting job from day one. Lets hope he shines and makes the best of this chance. I think he will and if he shows some good form I dont think it will be too long befor its Kalinic and Eduardo up front for our National team.

Oh I almost forgot…. 4th… How about Sharbini scoring 6 goals in Rijeka's 6-0 win in week 1 of the croatian league. This guy should be called up to our national team. Pompey sign him, this guy is a steal for the 2 or 3 million Euro it would cost to get him, next year it might be 8mill.

1) Well surely not all of it is Srna's fault, but I'm equally as sure it was his call in the end.
2) I'm sure they'll play an exhibition match before Belarus, they'll probably visit a local club due to some anniversary and score a dozen goals or so. That's usually the case

3)Not yet official but yeah, it looks like he might team up with Kranjcar.
4)Actually, Sharbini(Anas) scored 3 goals in that game, his brother Ahmad scored the other three. The Sharbini show.
Posted from
Croatia

Eduardo already has a well taken goal for Arsenal against Rangers, and is still looking good. I'm lovin this.

Lets hope Eduardo can have an injury free season. Looks like he will get a lot of playing time this year with Adebayor gone.
Portsmouth is in big financial trouble. They could not even find the 6mill to sign Kalinic…. If their ownership situation doesnt get settled fast i think Kranjcar will be the next guy to be sold. Look for Tottenham and Arsenal to be the clubs most interested in him.
Comments are closed